Development on iOS is broken.
Paying for a developer account to run your own code on your own hardware. Waiting weeks for your app to clear the review process. Having to make sure that everything is perfect before you ship, because fixes will take days to reach your users. Does any of this sound familiar?
1990 is calling…
…and it wants its product development cycle back.
As a culture, we spent years figuring out how to build not just a good product, but the right product. The one that users love. The web gave us the power to start small and move extremely fast on a product, testing and iterating and exploring until we reached product-market fit.
It was a revolution! We threw away the Gantt charts. The six-month development plans. The entire profession of middle management. We replaced them with morning standups and continuous deployment.
But with the App Store as our gatekeeper, we're back to the bad old days, committing months of development time to an app before we have more than a handful of people using it.
Startups building apps make a token effort with paper mockups and user testing, then write off negative results with confidence that users will like the final form better. Three months later, they've built a detailed, beautiful, bug-free app. That nobody wants to use.
None of us would even consider this kind of behavior for a web app, but the release cycle of the App Store encourages the perfectionist in all of us to make it "done" — whatever that means — before we ship it.
When you're trying to build a new product, the ship-and-iterate Lean Startup mantra is your best friend. Nobody, least of all you, will know the intricacies of your users' needs and expectations until they have the product in their hands. It is hubris to believe that you can develop the perfect product in a vacuum. And yet almost every startup today builds for iOS first, even as the requirements of the platform destroy their development cycle.
Product development as it should be
Android, by comparison, is a breath of fresh air. Especially with the Google Play updates following Google I/O this June, it's a platform that's truly designed for development. Trying the very first build of your app on real hardware is as easy as hitting "Run." No provisioning profiles. No developer accounts. No bullshit.
When you're ready to road test your knocked-together MVP, you can create a Google Group or G+ community with just the people you want to test. Once they opt in, they can install your alpha from the Play store just like they would any other app.
From that point on, they'll automatically receive your updates over the air. Your users never have to click, read, or download anything else for you to keep deploying and testing. Maybe it's still a little clumsy, but my GOD it's an improvement.
For reference, Google's developer instructions for how to set up beta testing are ~350 words. Apple's? 2800.
Want to have a batch of beta testers too? Same process. There's a reason that the big guys like Facebook and Twitter are rolling out changes this way on Android, and why Google has had Beta and Canary Chrome channels since forever. It works.
According to Apple, iOS app beta testers who run into crashes are expected to sync their device to iTunes, find a CrashReporter logs folder on their computer, and then email a log file to the developer.
Android testers hit "send" on a popup.
When you decide you're ready and hit "publish" on your shiny new Android app, it's live in three hours. And when you realize that even after all that testing, you misspelled your app's name on the first screen of your app, that fix is only a couple of hours away from the Play store.
Oh, and auto-update for apps is on by default. Has been for years.
A competitive advantage
While everyone else is building for iOS and wasting weeks in the App Store submit-review-deny-resubmit doldrums, you could be racing ahead on Android, where app burnout hasn't yet set in.
That's because the best part, the dirty little secret, is that Android users are starved for beautiful apps. It seems like every utility you can find on iOS shows at least a modicum of design, but on Android, this is the leading Craigslist app: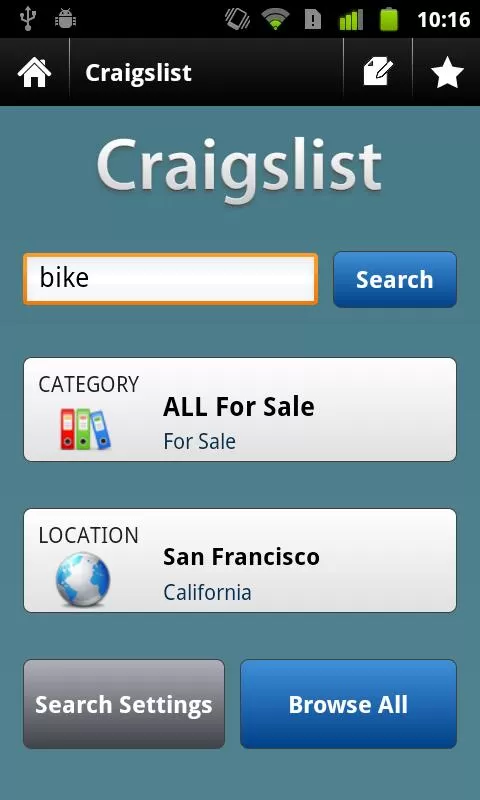 It has more than ten million downloads, and a 3.9-star rating.
This is the first result for "voice recorder" on the Play store: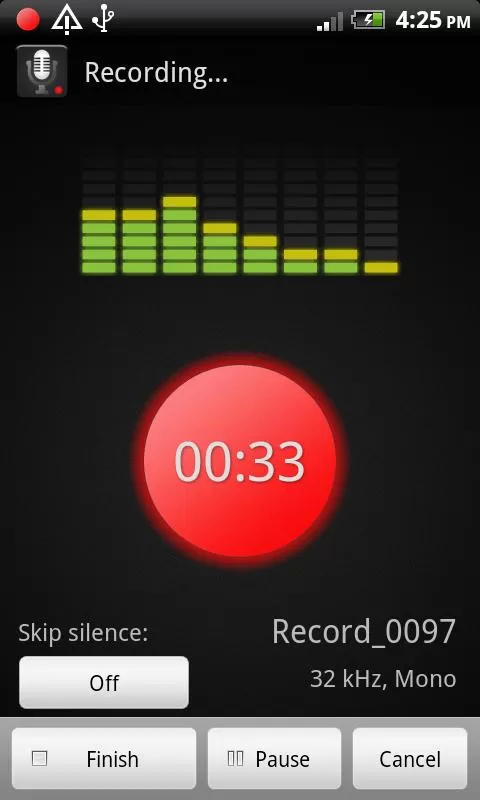 5M+ downloads. 4.8 stars.
I don't mean to pick on these apps; I'm sure they work perfectly well.
But if you build an app on Android that's on par with the design quality you're used to on iOS, your users will love you. The press will love you. Gizmodo will feature your app just so they'll have a nice header image for their "Android Apps of the Week" post.
That's why when Any.do launched their to-do list on Android first, they got reviews like this. Hell, people will write articles about you just because you chose to ship Android first.
And at a billion activated devices by the end of this year, Android is number two to nobody.
Which platform to target is an important decision for your business. Making it based on your personal preferences is shortsighted. The smart choice today is to build for Android first. Ship it, iterate on it, and get it right fast. Build for iOS when it's time to scale, and not before.
Besides, have you tried Android recently? You might be suprised to discover that Android is better.